[tabs][tab title="Run Description"]
The Nugget / Powerhouse section of the Rogue is a fun and convenient run for those of us in Southern Oregon. Most folks put-in on river left below the former Gold-Ray dam site and float to either the boat ramp above Gold Hill (Gold Hill Regional Sports Park) or the beach below the bridge at Gold Hill on river right (long carry to the road).
The first two thirds of the trip is pretty mellow and even flat at the very start. First there's "Romeo's Riffle" (class II-), "The Squeeze" (class II), "Surprise" aka "Short Round" (class II+) and "Lyman's" (class II+). At normal flows, Lyman's has a decent surf wave on the bottom-right with eddy-access.
After Lyman's, a long flat stretch leads to "Son of Nugget," which is a man-made rapid created by an old diversion dam. The center channel always has plenty of water in it. "Nugget Falls" (Hay's Falls to some) is just downstream. The most common route is down the actual falls on river-left, however there is also a right channel that can be run (although not very often). The scout for Nugget is on river-left. A trail runs through blackberry bushes but leads to a clear view of the rapid.
Below Nugget is another stretch of flat water that eventually leads to Powerhouse (aka "Tilomikh Falls), which is the largest rapid on this stretch (class III+/IV-). This one also has multiple channels, however the most common channel is down the middle, known as the "main drop." The right channel is referred to as "Mugger's Ally" – named after a rock in the middle of the channel that has been known to cause some issues and "mug" unsuspecting rafts.
The entrance to Powerhouse is typically on river-right. From there, make your way towards the center of the river to line up for the first of two drops in the main channel. The rapid ends in the "Green Room," which is a historically significant place for Native American. The Tilomikh's used to catch salmon from the base of the falls.
Powerhouse marks the end of any significant whitewater until the "Rec Stretch" of the Rogue River near Galice.
[/tab]
[tab title="Guidelines"]Put in: Fisher's Ferry
Take out: Gold Hill Regional Sports Park
Length: 5.5 Miles
Typically done in: 2-3 Hours
Difficulty: Class III+
Recommended flows: 1000 cfs to 10,000 cfs at Ray Gold
Cell phone service: Yes
Closest town to put in: Central Point, Oregon
Closest town to take out: Gold Hill, Oregon
[/tab]
[tab title="Flow Information"]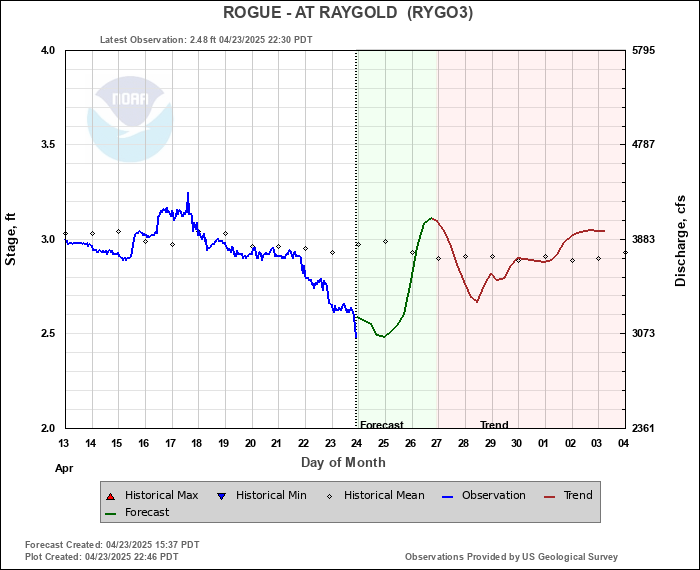 [/tab]
[/tabs]