[tabs][tab title="Run Description"]This write-up is courtesy of North Umpqua Outfitters, a rafting outfit that guides whitewater rafting trips on the North Umpqua.
In Oregon only one county can can boast that within its borders in the High Cascade Mountains is a river that flows to the Pacific Ocean. The Thundering water of the North Umpqua River are also known as Oregon's "Emerald Jewel" as it flows through Douglas County.
The headwaters of this extensive river basin is Maidu Lake on the west side of the Cascade Divide and the mouth of the river is Winchester Bay 109 miles down river is where it meets the mighty Pacific Ocean. Scenic Byway, Highway 138, threads its way along side the North Umpqua River in the High Cascades and becomes the Umpqua in Roseburg.
The North Umpqua River offers "World Class" whitewater on the scenic & wild segments above "Colliding Rivers" in Glide Oregon. There are 5 segments to explore when rafting/kayaking or canoeing.
Segment #1 starts at Boulder Flats put-in and offers great class 2 & 3 pool drop rapids.
Segment #2 starts at Horseshoe bend put-in and offers pool drop class 2-3 & one class 4 "Pinball".
Segment #3 starts at Gravel bin put-in and offers class 2-3 rapids with long pools between rapids. The flow is slower in summer months and is also very popular with fly-fisherman.
Segment #4 starts at Susan Creek put-in and offers class 1-2-3 rapids with a slower pace than the other segments.
Segment #5 starts at Baker park put-in and offers class 2-3 pool drop rapids and the take-out is at Cable crossing. Be sure and take out here or you will be running a Class 5 water fall called "Deadline falls" and the Narrows aka the "Jaws" & "Salmon Hole". This segment can be class 4-5 at higher flows. The small town of Idleyld Park is just down stream and from here you can keep floating to the confluence of the South Umpqua and the North Umpqua where these two powerful rivers combine to become the Main Umpqua at River Forks Park in Roseburg.
Old Garden Valley Road connects to Highway 38 at Tyee and parallels the Main Umpqua to Winchester Bay on the Oregon Coast. Whether you are traveling by whitewater river raft/kayak,canoe or by RV or car, you will experience stunning beauty and a wide variety of wildlife.
Douglas County local guides have the equipment and experience to share these thundering waters with you and your family and friends.
Download the North Umpqua Wild and Scenic River Map (PDF)
[/tab]
[tab title="Flow Information"]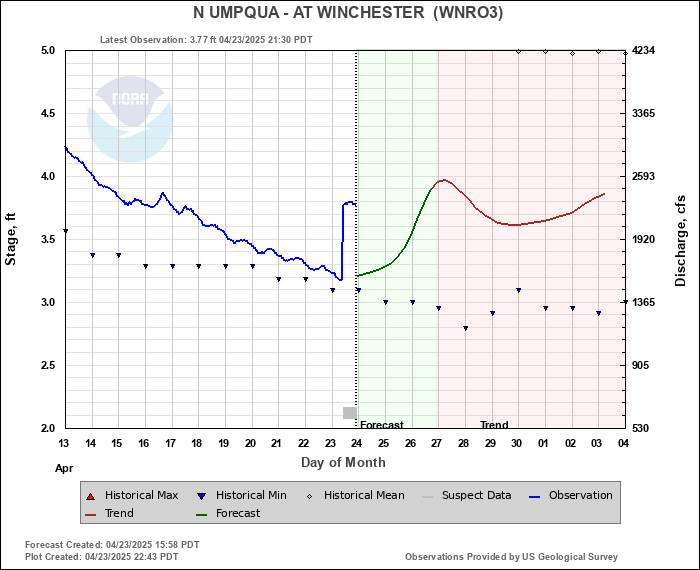 [/tab]
[/tabs]